Many of you will recognize Demme Learning as the ones who brought you Math-U-See, a favorite in the homeschool world. They now offer Spelling in their line-up of products. This review is limited to only one choice of many, depending upon skill level, of the Spelling You See curriculum called Modern Milestones.

About the product (Modern Milestones)
What we received: Spelling You See Instructor's Handbook ($14.00) and Student Pack ($30.00) which includes a pack of erasable coloring pencils. Never knew these existed! Love them!
Book G in the Spelling You See line-up, this curriculum is skill based rather than grade based. For this review, my 8th grader worked on it. He has struggled a bit with spelling, and mainly sounding out hard words. I was hoping that a refresher in Spelling would help him.
For those familiar with the Math-U-See program, the pages will look familiar (A,B,C….etc) for each day/lesson. The time period used for Modern Milestones is early modern and is not just limited to the United States. The focus of the passages studied is on "artists, musicians, scientists, and others who have influenced our world since early modern times" (per the website). One example of a character used is Johannes Gutenberg.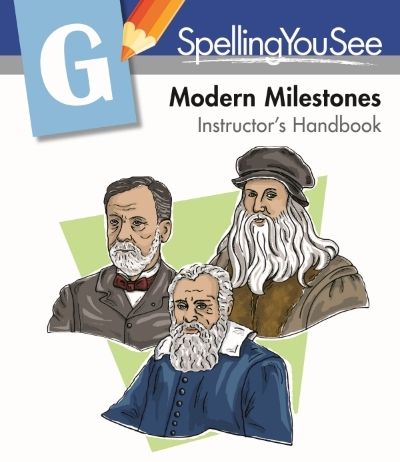 The Instructor's Handbook begins by introducing you to the how and why of the method used in Spelling You See Modern Milestones. It is also very helpful with lesson planning, showing you how the lessons are organized. It also provides the passages for dictation, answer key and even a section of FAQ's! This book is also small enough to take with you on the go–not bulky but not tiny so that you can't read the writing. I found this guide VERY helpful in helping me to understand this particular method of Spelling. As he was learning, I was learning as well. In my opinion the program is difficult to use without it, especially with the answer keys and dictation passages. I would dare say it's mandatory.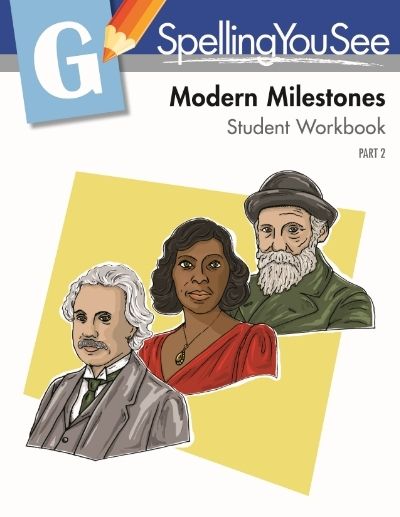 Now to the fun part! The Student Book! Colored pencils are a must for this so I was glad to see them included. The student reads passages and marks items in various colors depending upon what is asked for. Students are encouraged to look for prefixes and suffixes added to base words to 'learn' these. They are then marked with the appropriate color that the lesson calls for. An example is to look for, and mark in yellow, the suffixes -ed and -ing. Modern Milestones uses reading passages, dictation, marking, and copywork to provide a multi-sensory approach to learn Spelling.
Each lesson has an interactive activity for the student. They start out each day by reading the passage aloud either to you, or to themselves depending upon your child's ability and your comfort. Copywork is included in 4 of the 5 days. They read the passage each day (it is the same passage each day), then 'copy' it on the following page. On another day the students are given the opportunity to use what they are learning in context with a page titled "Workshop." The final day has the student doing copywork from an oral dictation by the Teacher. These aren't short passages, and they are challenging without being overwhelming.
Final Impressions:
As a mom/teacher, I really enjoyed the multi-sensory approach. I am a firm believer in repetition, repetition! I also believe there is much to be said about reading and writing the same things over and over. What is brilliant about this curriculum is that it uses figures in history to do so! While they are learning how to spell, they are also tucking away facts on History, Science, Art and more. This would also lend well for those who love Unit Studies and/or the Classical Method to use in addition to the time period you are in.
My son didn't completely share my enthusiasm, as he tends to bristle at repetitive work. That said, he did find much joy in reading the passages–Biography is one of his favorite genres of Literature. He is also big on those "Useless Information/Facts/Trivia" books so I was FINALLY glad to have some USEFUL information to fill his noggin with.
All in all we were well pleased with this curriculum, and I have two younger girls who love this type of thing, and I look forward to perhaps trying it with them when they are old enough!

See what my Crewmates thought!!