Do you ever find your homeschool days dragging on? Being pulled in twenty different directions with multiple kids? Searching for 'something' although you aren't quite sure what that is? Have you wanted to enliven your school year with some affordable classes, yet your search has left you empty handed…or with empty pockets?
Today I am inviting you into our multi-age classroom by sharing our review of SchoolhouseTeachers.com, a brilliant site brought to you by The Old Schoolhouse Magazine creators! But first, here is a quick video overview of this program, for those audio and or visual learners like myself. We were given the Yearly Membership option for review.
SchoolhouseTeachers.com is a fabulous one stop shop for curriculum choices for any age–including goodies for parents! With over 100 courses to choose from, a membership fee that includes whole family usage as well as a co-op option, and classes streamed anytime/anywhere, you can't go wrong in investigating it. Matter of fact, they offer a FREE 30 day trial…that INCLUDES a FREE Welcome Basket! Courses are offered for levels Pre-K all the way up to 12th, PLUS several listings for "family courses" such as Nutrition, Family Fitness, and Whole Foods Cooking to name a few. Courses may be one year long, or a semester. As a bonus for the parents? Supplements and resources available to help–including their fabulous downloadable planner!
Normally, the membership costs $12.95 per month or at a 10% discount by purchasing the yearlong option at $139….however, SchoolhouseTeachers.com is currently running a big special right now and through Christmas Day at 11:59pm ET.
You will receive 40% off the monthly membership ($7.77/month) or 50% off the Yearly Membership ($64.26/year). Homeschool families who join at this rate will keep it forever as long as they maintain a continuous membership.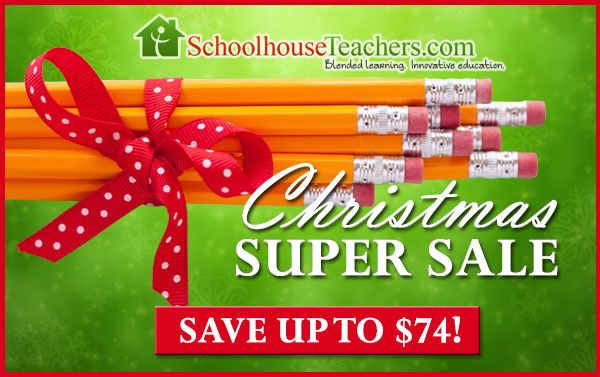 We used this program with children at 4 different levels developmentally and academically. A is 5 and has amblyopia and dystropia, fancy words for "really bad eyesight." Programs like this are very beneficial for her-she can 'hear' whatever she may have trouble seeing. E is 7 and our diva of the bunch. She is VERY independent and learns better "doing school" with supervision vs hours of teaching. Even after we finished reviewing the item, she continues to log in and "do school" on her own! L is my 14 year old book loving, creative writing, joke cracking, computer science loving son. Finally, B is my 16 year old, caught between wanting to be grown up and wanting to stay a kid, text book loving, no nonsense down to earth, anime and Japanese culture loving son. Phew…can they be more different?
Little A always wants to try everything that big sister is doing…and quite often, big brothers. We have found that by allowing her to "sit in" and "do" school with the olders, it has really pushed her along academically. Her first choice was Beginning Sewing. A is still learning to read, so I had to help her with some of the instructions. The video "teacher" was a huge blessing. In the very first lesson, she explains, and shows, what some sewing tools are and explains the sewing machine on the video content. The lessons are also downloadable and able to be printed off-it includes the patterns. A also joined in with big sister E to do several others. Her take? "I LOVE it!"
E also chose Sewing, but then became distracted by the "Bug Science" course. I'm not sure if it was the title that caught her eye or what, but she is my Science gal! She raved about this course all day and kept going back to do more…in the SAME day! She also "previewed" several other courses. SchoolhouseTeachers.com is definitely a hit with her!
Torn between several options, this wanna be Computer Science major decided to see what the Filmmaking course was all about. Scheduled with 36 weeks of content, this makes a perfect year long course. His brother B decided to join in and do this one as well–he has high hopes and aspirations to break into the Anime film industry. Both boys really enjoyed the course, although L prefers a more "animated teacher," perhaps why I bore him to tears. They were intrigued with the content and began work right away on the first assignment, even discussing it with me and each other. SchoolhouseTeachers.com provides multi-focal instruction, which is able to draw out anyone from the various learning styles.
Overall, we are very blessed to have been given the opportunity to review this product and plan to incorporate it into our homeschool…permanently. Especially for B, my high schooler who was "bored" by many of the electives available on the market. SchoolhouseTeachers.com not only gives him more choices, but the College Choice Guidance course gives ME peace of mind. It's something we can do together and will help keep us on track when it comes time to send each of them to college.

Read what my crewmates thought here: